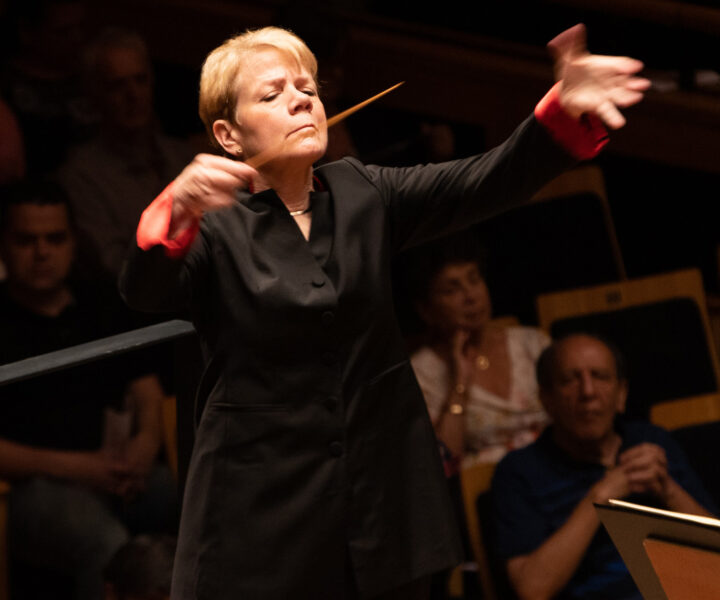 Following Alsop's acclaimed performance at Last Night of the Proms and the launch of her tenure at NOSPR, Alsop heads to Berlin for a performance with the Deutsches Symphonie-Orchester and cellist Alban Gerhardt (October 1). Next, Alsop returns to Vienna, leading the RSO Wien in Stravinksy's The Rite of Spring, as well as Randall Smith's Blue Bongo Fever Dream and Friedrich Cerha's Concerto for Percussion and Orchestra with soloist Vivi Vassileva (October 4). On October 7, Alsop and the orchestra travel to Graz for ORF musikprotokoll, performing a program of new works by Clemens Gadenstätter, Bernhard Gander, Clara Iannotta, and Liza Lim.
Early in November, Alsop returns to São Paulo for a week of concerts with Orquestra Sinfonica do Estado de São Paulo, where she serves as Conductor of Honor. While in São Paulo, Alsop conducts a program including Carlos Simon's Amen!, Anna Clyne's Dance with cellist Inbal Segev, and excerpts from Prokofiev's Romeo and Juliet (November 2–5).
Following performances in São Paulo, Alsop returns to the US on November 8 to lead the Choral Arts Orchestra at the Kennedy Center in Washington, D.C., as part of the Choral Arts "Festival of Voices." Developed in partnership with the British Embassy, the concert celebrates British composers spanning the 18th through 21st centuries. The program includes the US premiere of Roxanna Panufnik's Coronation Sanctus and William Walton's Belshazzar's Feast. 
In December, Alsop travels to Dublin (December 1), joining Ireland's National Symphony Orchestra for a program including music by Beethoven, Rouse and Stravinsky, before leading the BBC Concert Orchestra, BBC Symphony Chorus, and London Adventist Chorale in the European premiere of Alsop's signature holiday program, Too Hot to Handel: The Gospel Messiah, at the Royal Albert Hall (December 7).
---