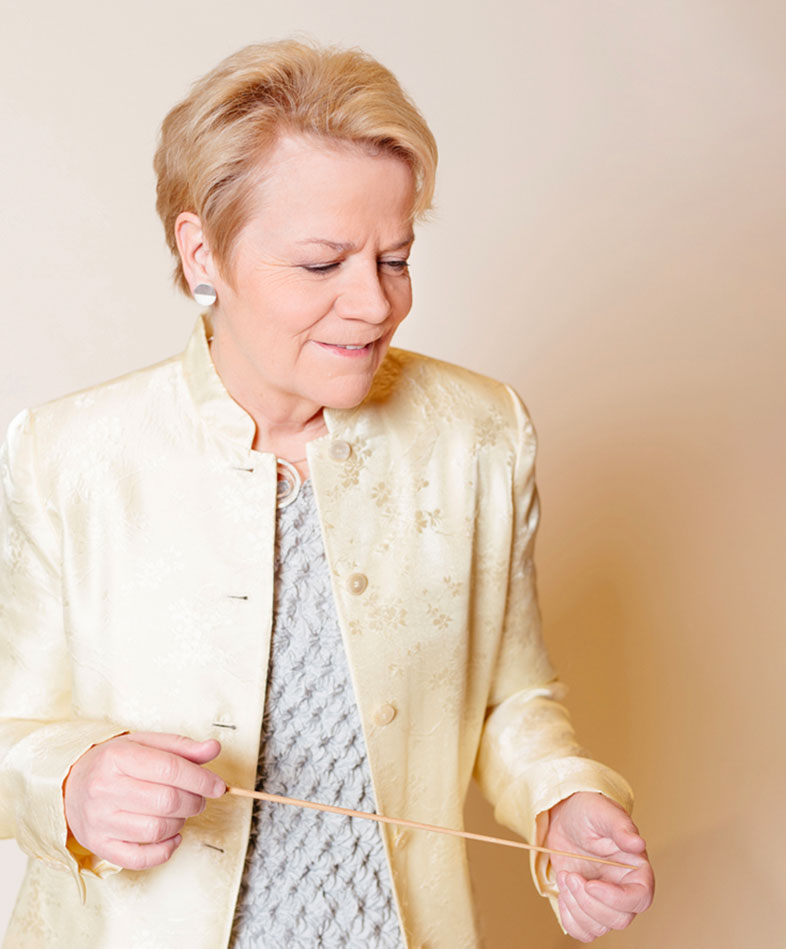 One of the foremost conductors of our time, Marin Alsop represents a powerful and inspiring voice. Convinced that music has the power to change lives, she is internationally recognized for her innovative approach to programming and audience development, deep commitment to education, and championing of music's importance in the world. The first woman to serve as the head of a major orchestra in the United States, South America, Austria and Britain, she is, as the New York Times put it, not only "a formidable musician and a powerful communicator" but also "a conductor with a vision."
The 2023-24 season marks Alsop's fifth as Chief Conductor of the ORF Vienna Radio Symphony Orchestra, which she leads at Vienna's Musikverein and Konzerthaus, as well as on recordings, broadcasts and international tours; her first as Artistic Director & Chief Conductor of the Polish National Radio Symphony; and her first as Principal Guest Conductor of London's Philharmonia Orchestra. She also holds positions as Chief Conductor of the Ravinia Festival, where she curates and conducts the Chicago Symphony Orchestra's annual summer residency, and as the first Music Director of the National Orchestral Institute + Festival (NOI+F) at the University of Maryland, where she launched a new academy for young conductors and leads the NOI+F Philharmonic each June.
A full decade after becoming the first female conductor of London's Last Night of the Proms, Alsop makes history again in September 2023, as both the first woman and the first American to guest conduct three Last Nights in the festival's 128-year history. In spring 2024, she makes her company debut at the Metropolitan Opera, leading John Adams's oratorio El Niño in a fully staged new production starring Julia Bullock and Davóne Tines. Other 2023-24 highlights include a new production of Bernstein's Candide with the ORF Vienna Radio Symphony, an all-American program to inaugurate her four-season Philharmonia appointment, Penderecki's seldom-heard opera The Black Mask with the Polish National Radio Symphony, and returns to the podiums of the Orchestre Philharmonique de Radio France and Royal Concertgebouw Orchestra.
In 2021, Alsop assumed the title of Music Director Laureate and OrchKids Founder of the Baltimore Symphony Orchestra, which she continues to conduct each season. During her outstanding 14-year tenure as its Music Director, she led the orchestra on its first European tour in 13 years, released multiple award-winning recordings, and conducted more than two dozen world premieres, as well as founding OrchKids, its groundbreaking music education program for Baltimore's most disadvantaged youth. In 2019, after seven years as Music Director, Alsop became Conductor of Honour of Brazil's São Paulo Symphony Orchestra (OSESP), with which she continues to undertake major projects each season. Deeply committed to new music, she was Music Director of California's Cabrillo Festival of Contemporary Music for 25 years, leading 174 premieres.
Alsop has longstanding relationships with the London Philharmonic and London Symphony Orchestras, and regularly guest conducts such major international ensembles as the Cleveland Orchestra, New York Philharmonic, Philadelphia Orchestra, Leipzig Gewandhaus Orchestra, Orchestra of the Age of Enlightenment, Budapest Festival Orchestra and Orchestre de Paris, besides leading the La Scala Orchestra, Royal Concertgebouw Orchestra and others. In collaboration with YouTube and Google Arts & Culture, she spearheaded the "Global Ode to Joy" (GOTJ), a crowd-sourced video project to celebrate Beethoven's 250th anniversary in 2020.
Recognized with BBC Music "Album of the Year" and Emmy nominations in addition to Grammy, Classical BRIT and Gramophone awards, Alsop's discography comprises more than 200 titles. These include recordings for Decca, Harmonia Mundi and Sony Classical, as well as her acclaimed Naxos cycles of Brahms with the London Philharmonic, Dvořák with the Baltimore Symphony, and Prokofiev with the São Paulo Symphony. Recent releases include a live account of Candide with the London Symphony Orchestra & Chorus; a Kevin Puts collection with the Baltimore Symphony; and the first installment of a complete Schumann symphonic cycle for Naxos with the Vienna RSO.
The first and only conductor to receive a MacArthur Fellowship, Alsop has also been honored with the World Economic Forum's Crystal Award. Amongst many other awards and academic positions, she served as both 2021-22 Harman/Eisner Artist-in-Residence of the Aspen Institute Arts Program and 2020 Artist-in-Residence at Vienna's University of Music and Performing Arts; is Director of Graduate Conducting at the Johns Hopkins University's Peabody Institute; and holds Honorary Doctorates from Yale University and the Juilliard School. To promote and nurture the careers of her fellow female conductors, in 2002 she founded the Taki Concordia Conducting Fellowship, which was renamed in her honor as the Taki Alsop Conducting Fellowship in 2020. The Conductor, a documentary about her life, debuted at New York's 2021 Tribeca Film Festival and has subsequently been broadcast on PBS television, screened at festivals and in theaters nationwide, and recognized with the Naples International Film Festival's 2021 Focus on the Arts Award.
The Conductor Documentary
The Conductor takes the audience into the heart of classical music, and into the soul of one of its top artists, the internationally renowned conductor Marin Alsop — the first woman to serve as music director of the Baltimore Symphony Orchestra, the São Paulo Symphony Orchestra, and the Vienna Radio Symphony Orchestra — giving us backstage passes to the artistry and energy that rewards her audiences and inspires her students.
Go to the film's website
The original Global Ode to Joy was conceived by Marin Alsop in partnership with New York's Carnegie Hall. Alsop was set to lead performances of Beethoven's Ninth Symphony on six continents with ten renowned orchestras. The concert experience was to be reimagined for local communities, presenting new music alongside the music of Beethoven and artists from each region. As part of each performance, the "Ode to Joy" text was to be translated into a local language.

Go to the project's website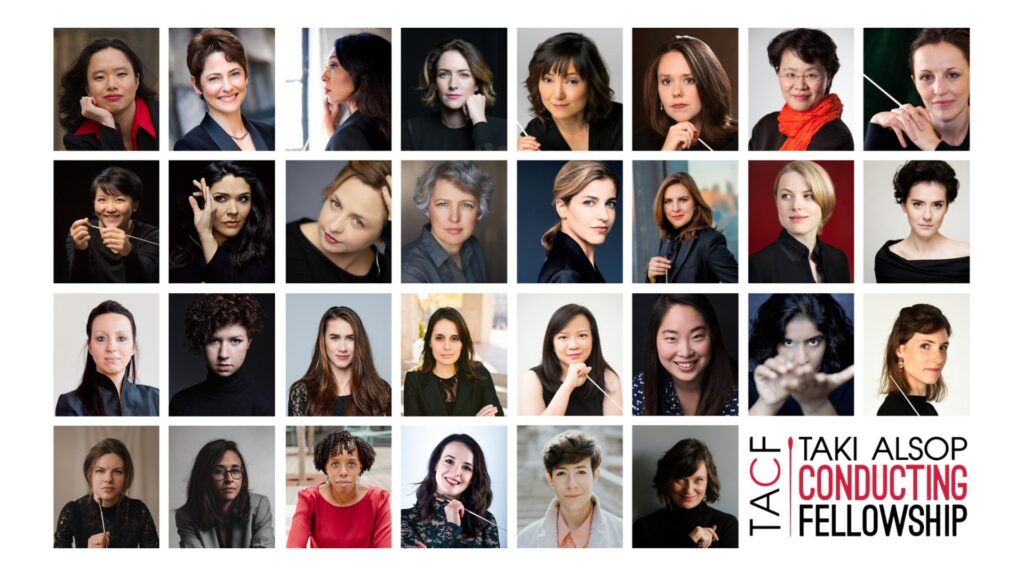 Taki Alsop Conducting Fellowship
The mission of the Taki Alsop Conducting Fellowship is to mentor, support, and promote women conductors as they advance in their professional careers.
The Taki Fellowship is currently a two-year award that primarily includes intensive coaching and mentoring with Marin Alsop and other music industry professionals. The TACF honorarium for Fellows is $20,000 over the two years; other awards are distributed on a merit basis. Since 2003, thirty women conductors have been chosen to participate in the program.
Go the fellowship's website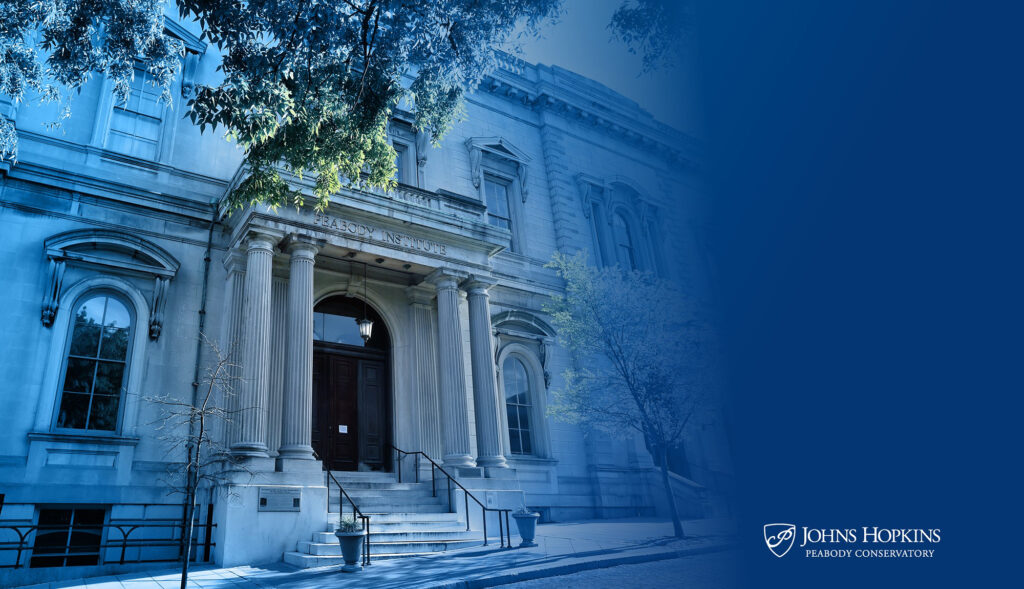 In 2015 Marin Alsop took over as Professor and Director of the Graduate Conducting Program at the Peabody Institute, Johns Hopkins University.
When she became Music Director of the Baltimore Symphony in 2007, Marin founded the Peabody/BSO Fellowship for talented emerging conductors. The first conductor to receive that fellowship, Joseph Young, now heads the ensemble program at Peabody Institute.
Following in the footsteps of her beloved teacher and friend, Gustav Meier, Marin's graduate students hail from across the globe and gain invaluable hands-on experience under the Maestra's guidance.

Go to Peabody's website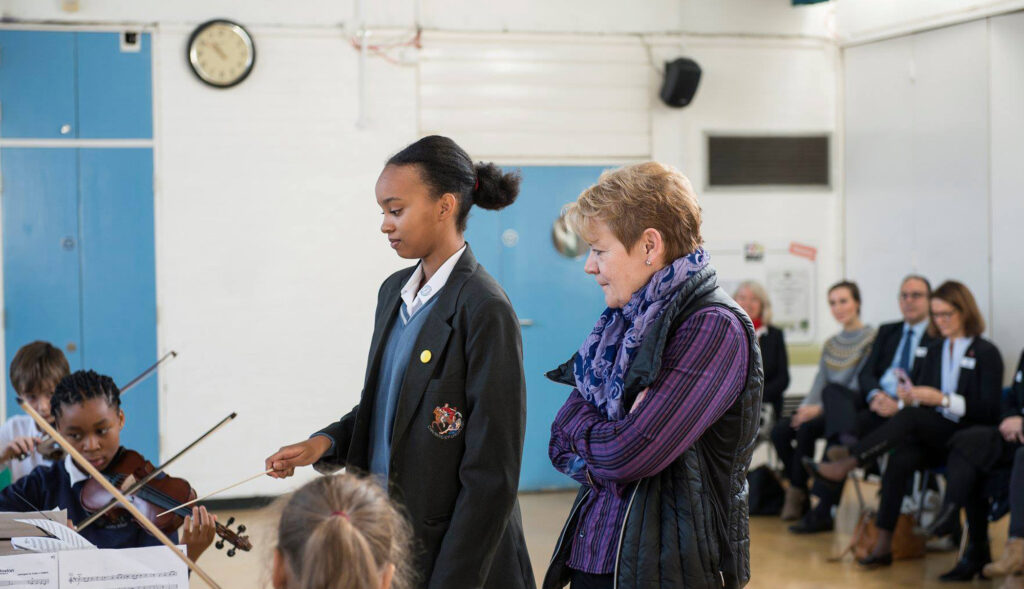 OrchKids uses music as a vehicle for students to develop musical and social skills that are transferable to all areas of their lives including creativity, self-expression, and teamwork. Marin Alsop, Music Director Laureate of the Baltimore Symphony Orchestra and OrchKids Founding Director, shaped OrchKids into the cornerstone of the BSO's community engagement efforts across the city with her artistic leadership and direction. OrchKids was founded in 2008 with 30 students at one elementary school, with seed funding from Marin Alsop and Founding Donors Rheda Becker and Robert E. Meyerhoff.
OrchKids now works with seven schools in Baltimore City, serving over 1,800 children from Pre-K through 12th grade during school, after school, and in weeklong workshops.

Go to the OrchKids website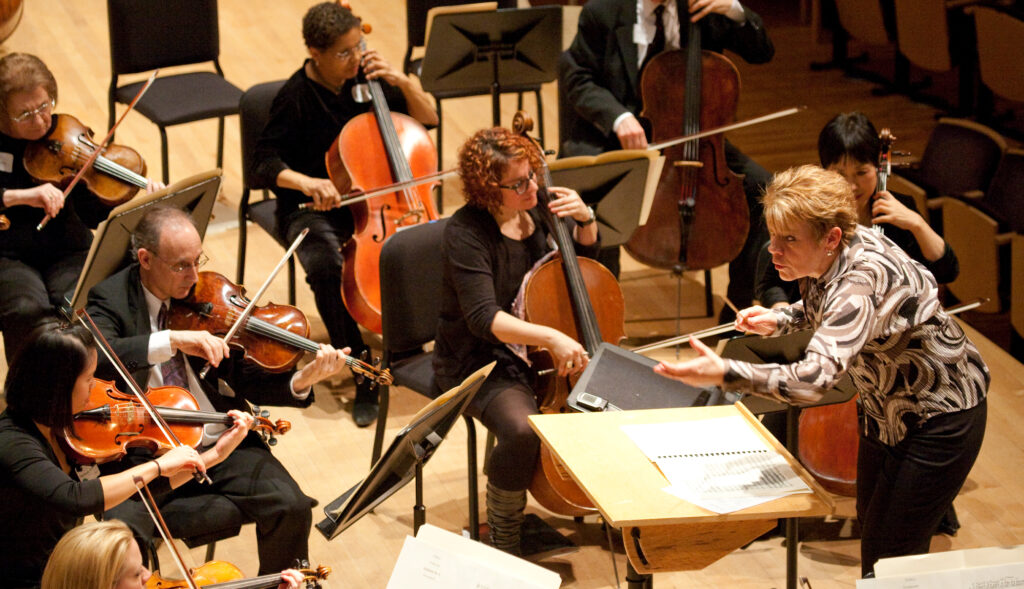 After reading an article about large increases in people learning and playing instruments, Marin wondered if the Baltimore Symphony was missing out on an opportunity to connect with aspiring adult musicians.
They put out a call for non-professional musicians to come and play with the musicians of the BSO and had almost 400 people sign up in less than 24 hours, launching the "Rusty Musicians" program at the Baltimore Symphony Orchestra in 2010.

Hailed for its incredible versatility, String Fever performed through the US in a wide variety of venues, from an eight-month run at one of New York City's top jazz clubs to a series of concerts for 8,500 Atlanta schoolchildren. String Fever was featured on two of Billy Joel's albums, Nylon Curtain and Innocent Man, collaborated with vocalist Mel Tormé and tap dance great Honi Coles, and appeared as featured soloists with the Colorado Symphony, the Eugene Symphony and the National Symphony Orchestras. Collectively, the members of String Fever hold degrees from The Juilliard, Eastman, Manhattan Schools of Music, Yale University, Indiana University, and Oberlin Conservatory. As individuals, the group was composed of some of the most sought-after musicians on the New York scene, performing regularly with the New York Philharmonic, New York City Opera and New York City Ballet Orchestras, the American Symphony Orchestra, American Composers Orchestra, and featured in numerous Broadway shows and commercial recordings.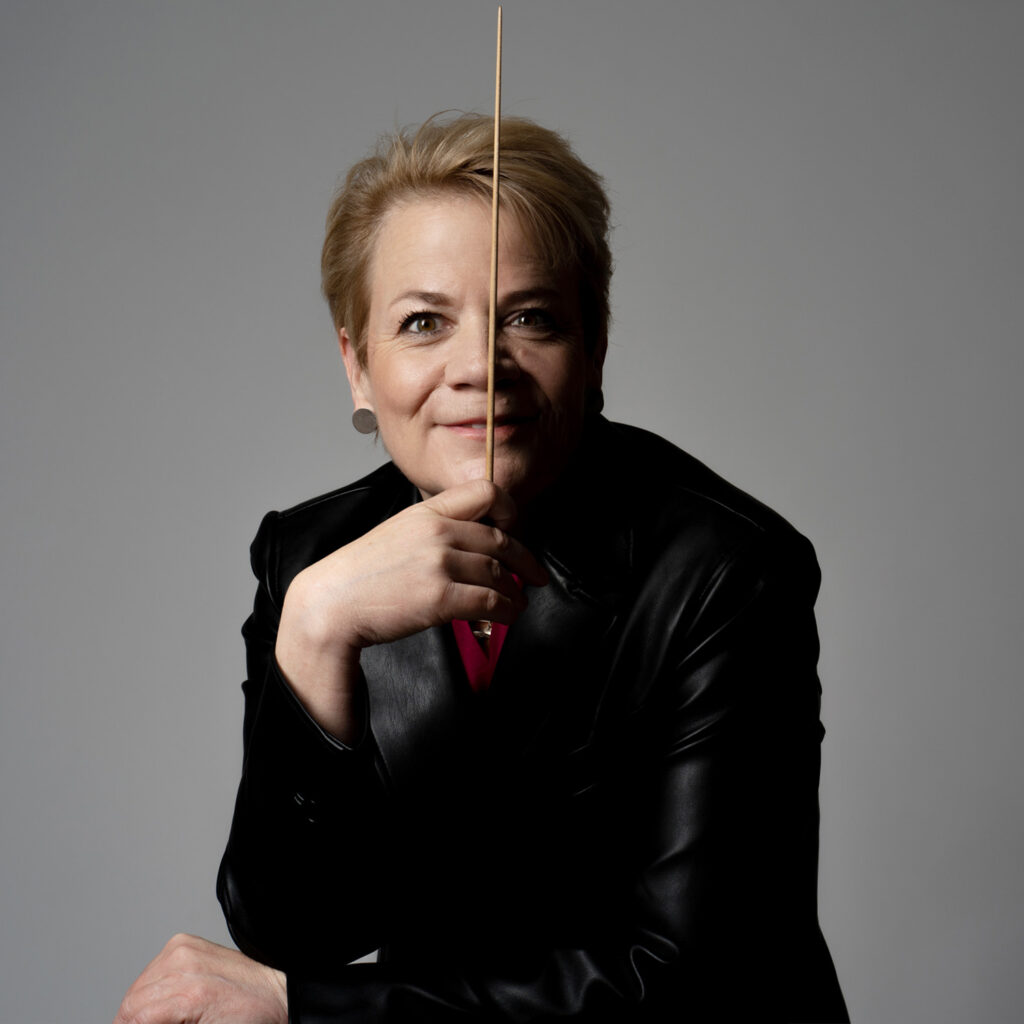 2023
The Conductor nominated for an EMMY for Best Arts and Culture Documentary

Named Artistic Director & Chief Conductor at Polish National Radio Symphony Orchestra

Named Principal Guest Conductor of the Philharmonia Orchestra
2022
Awarded the Leonard Bernstein Lifetime Achievement Award for the Elevation of Music in Society by the Longy School

The Conductor released nationally on PBS Great Performances, following theatrical screenings in NYC and LA
NYTimes highlights RSO Wien's recording of works by Hans Werner Henze

Ravinia Festival contract extended through 2025

Taki Alsop Conducting Fellowship celebrates its 20th anniversary with announcement of six new prize winners (bringing the total to 30) and a global concert series
2021
The Conductor debuts at NYC's Tribeca Film Festival

US release of Hindemith collection for Naxos, Alsop's first recording as Chief Conductor of RSO Wien

Named "Classical Woman of the Year" by American Public Media's Performance Today

Commencement speaker at Juilliard and recipient of Honorary Doctorate Degree

Named the 2021/22 Harman/Eisner Artist in Residence at the Aspen Institute
2020
The digital Global Ode to Joy is launched, celebrating the legacy of Beethoven in collaboration with Google Arts and Culture and thirty-two institutional partners.

Named Chief Conductor and Curator, Ravinia Festival

Named first Music Director of National Institute + Festival at University of Maryland's Clarice Smith Performing Arts Center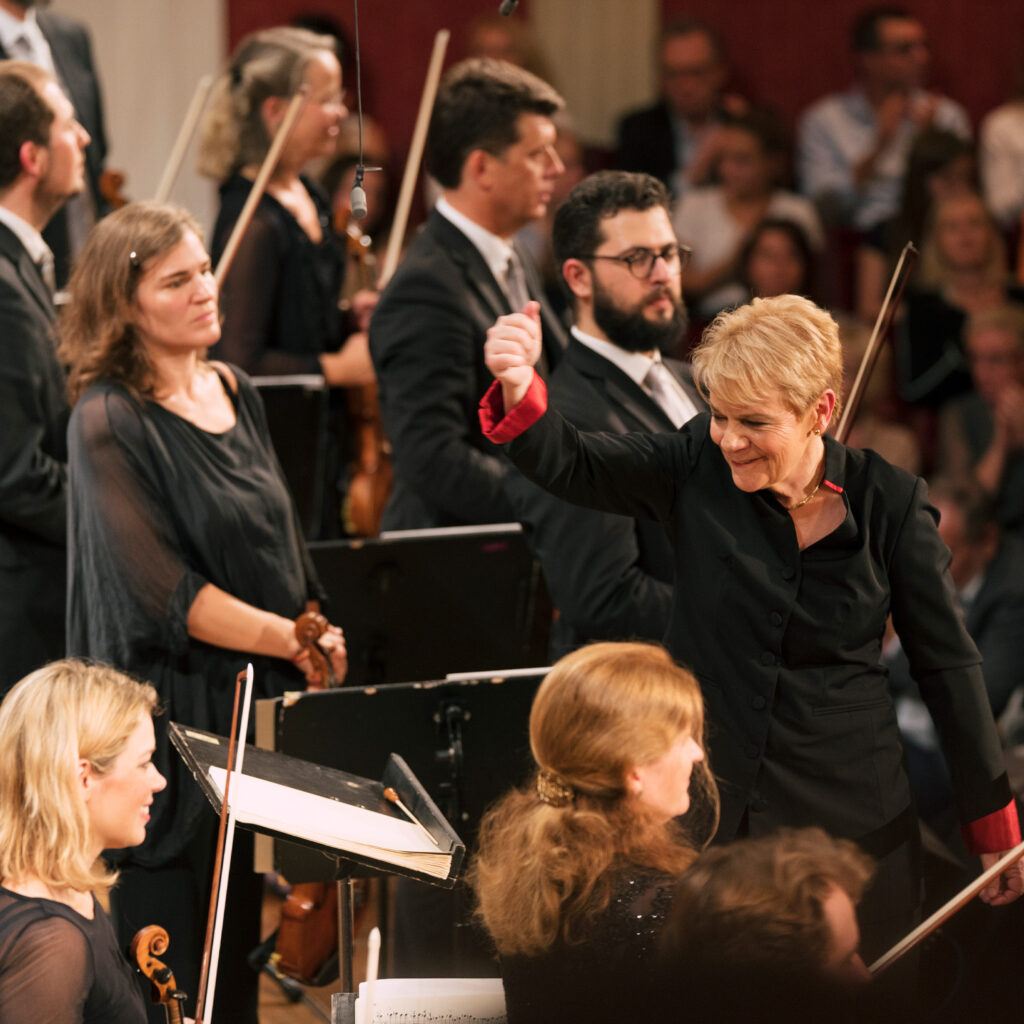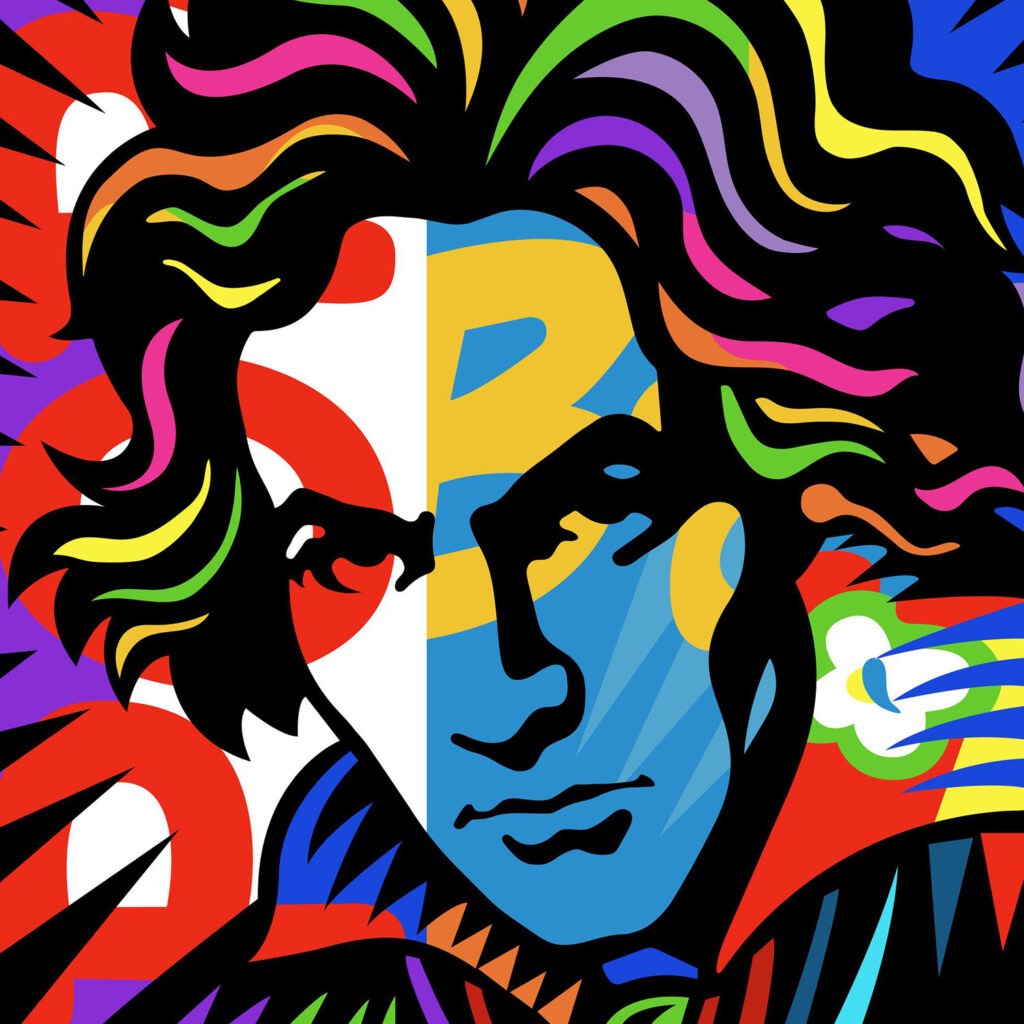 2019
Received Crystal Award from the World Economic Forum, Davos

Appointed Chief Conductor of the RSO Wien, the first woman to head a Viennese Orchestra

Led São Paulo Symphony Orchestra on a 5-date tour of China
2018
Celebrated Leonard Bernstein's centenary with concerts around the world including Baltimore, New York, São Paulo, Israel, London, Bournemouth, Edinburgh, Dublin and Chicago.

Bernstein box set released on Naxos

Received the Association of British Orchestras Award

Led the Baltimore Symphony Orchestra on a European Tour, the orchestra's first overseas tour in thirteen years
2017
Accepted title of Conductor of Honor with the São Paulo Symphony Orchestra

Received the Ditson Conductor's Award for the Advancement of American music
2016
Awarded an Honorary Doctorate from Yale University
2015
Appointed Director of Graduate Conducting Program at the Peabody Institute of Johns Hopkins

São Paulo Symphony Orchestra Music Director contract extended through 2019

Awarded Harvard University's Luise Vosgerchian Teaching Award


Established and awarded four students the Alsop Entrepreneurship Award, an annual prize to fund innovative projects in music entrepreneurship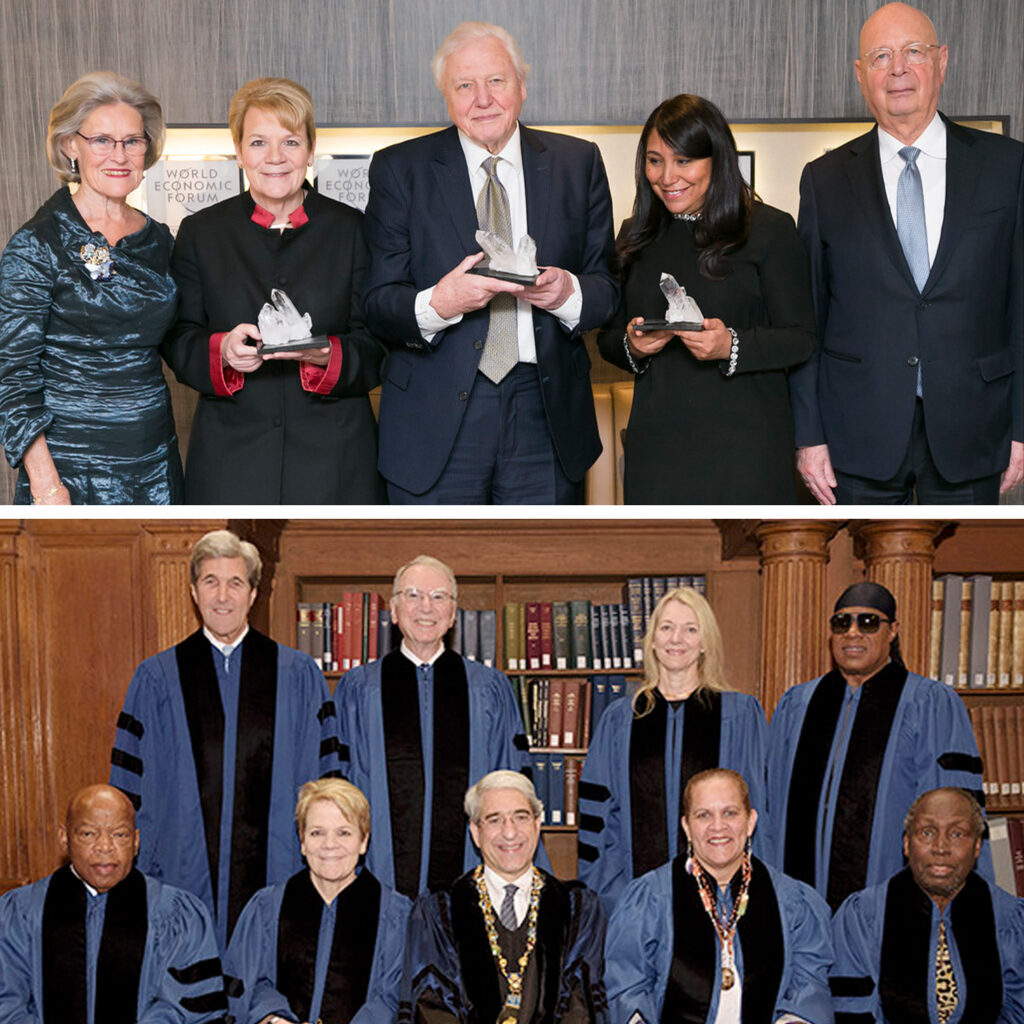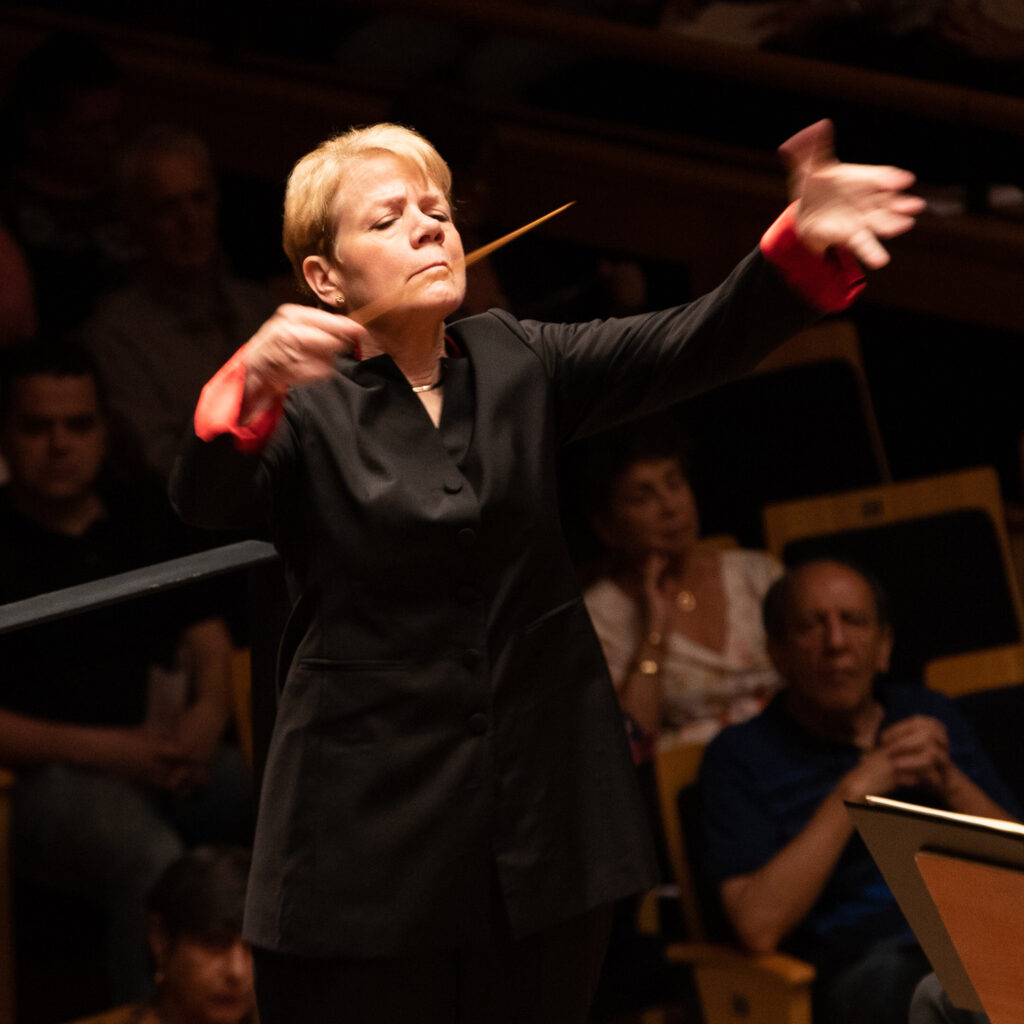 2014
Presented with Honorary Membership of the Royal Philharmonic Society in recognition of her outstanding services to music

Led the São Paulo Symphony Orchestra on a tour of Brazil's state capitals to mark the orchestra's 60th anniversary

Received the Champion of New Music Award from the American Composers Forum

Took part in the Southbank Centre's War Requiem project, conducting Benjamin Britten's War Requiem commemorating the centenary of WWI

Appeared on BBC Radio 4's Desert Island Discs
2013
Led the São Paulo Symphony Orchestra on a 15-date tour of Europex

First woman to conduct the Last Night of the BBC Proms

Baltimore Symphony Orchestra Music Director contract extended through 2021
2012
Made her Viennese debut with the Vienna Symphony Orchestra at the Musikverein

Appointed Principal Conductor of the São Paulo Symphony Orchestra

Led the São Paulo Symphony Orchestra on a European tour, with acclaimed performances at the BBC Proms in London (first Brazilian orchestra to play at the BBC Proms) and at the Concertgebouw's Robeco Summer Concerts in Amsterdam

Began a Naxos recording Prokofiev Symphony cycle with the São Paulo Symphony Orchestra and awarded Orchestral Choice in BBC Music Magazine

Presented with Honorary Membership (HonRAM) of the Royal Academy of Music, London
2011
Became Artist in Residence at London's Southbank Centre for the 2011/2012 season

Named in the Guardian's list of "Top 100 Women"

First woman in its 230-year history to conduct at Teatro alla Scala, Italy
2010
Wins a Grammy Award for Best Classical Contemporary Composition recording of Jennifer Higdon's Percussion Concerto with the London Philharmonic Orchestra and Colin Currie

Brings Rusty Musicians, an outreach program for adult amateur musicians, to Baltimore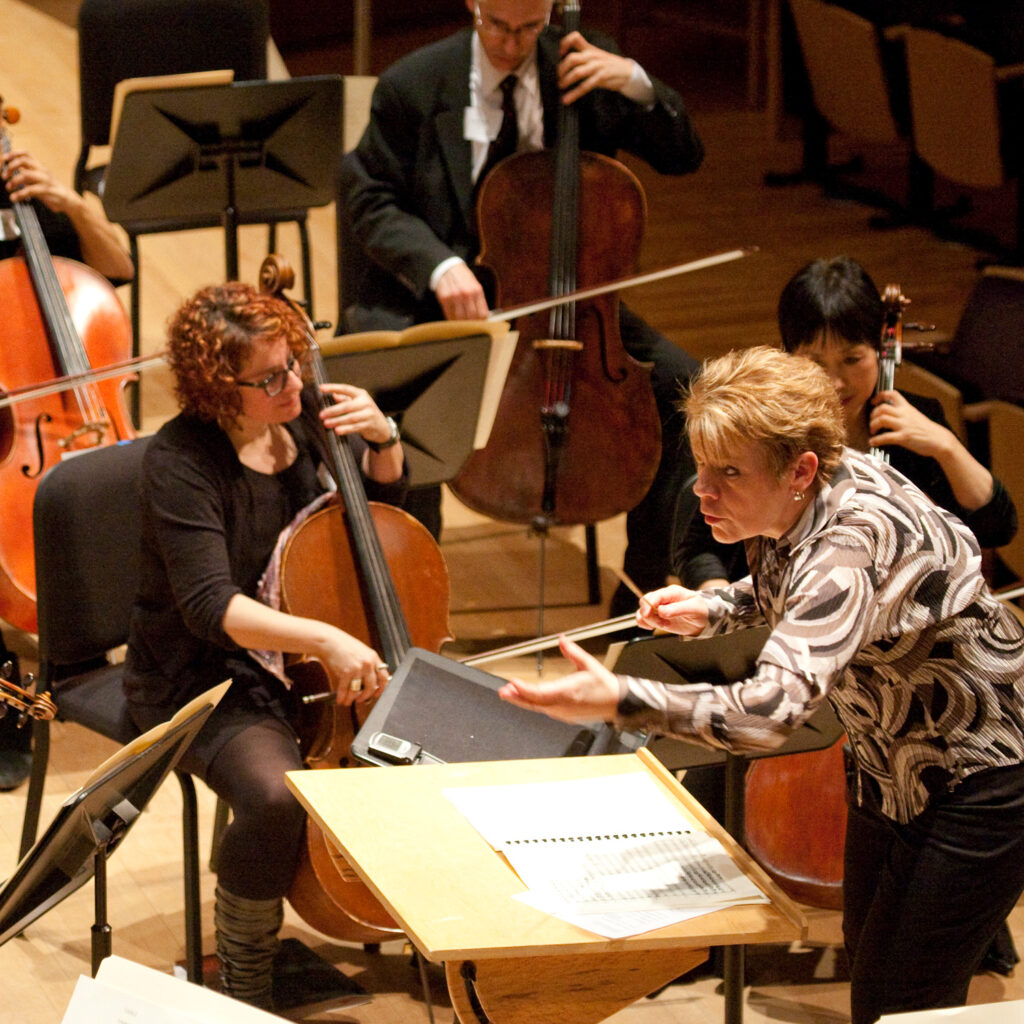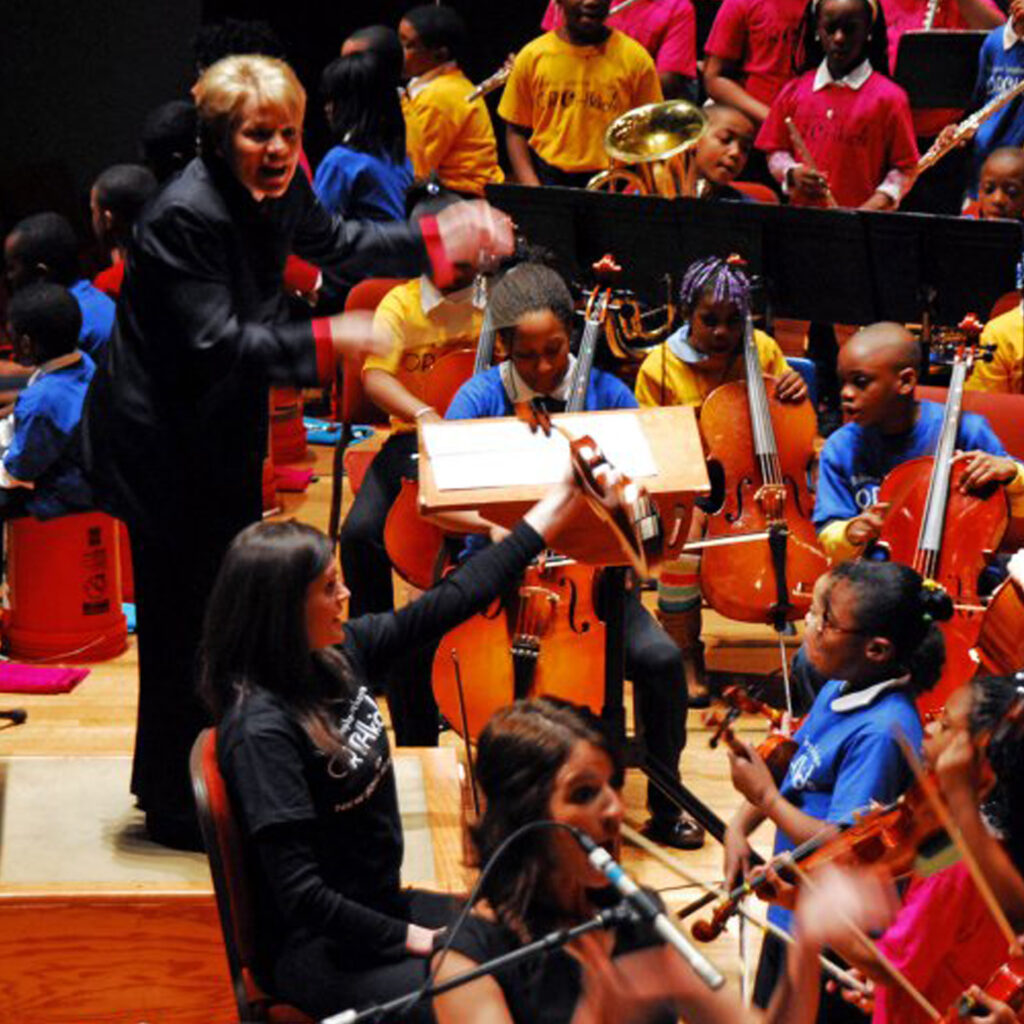 2009
Baltimore Symphony Orchestra tenure extended to 2015

Curated a season-long project celebrating Leonard Bernstein as Artistic Director of the 2009/10 Southbank Centre season

Recording of Bernstein's Mass nominated for a Grammy Award for Best Classical Album
Chosen as Musical America's Conductor of the Year
2008
Carnegie Hall Debut (with the Baltimore Symphony)

Launched OrchKids

Elected a Fellow of the American Academy of Arts and Sciences
2007
Inaugural concerts as Music Director of the Baltimore Symphony

Final CD in Brahms Symphony cycle with the London Philharmonic Orchestra released on Naxos

Wins European Women of Achievement Award
2005
Awarded a MacArthur Fellowship
2004
Began recording a Brahms cycle for Naxos with the London Philharmonic Orchestra

Led first major US revival of Adams's Nixon in China with Opera Theater of St. Louis
Led semi-staged production of Bernstein's Candide with the New York Philharmonic
2003
First artist to win both the Gramophone Magazine's Artist of the Year award and the Royal Philharmonic Society's Conductor Award in the same year
2002
Began first season in Bournemouth, praised by The Times: "Alsop has…made her orchestra play like there was no tomorrow."

Adds nine BBC Radio 3 broadcasts to the Bournemouth Symphony Orchestra schedule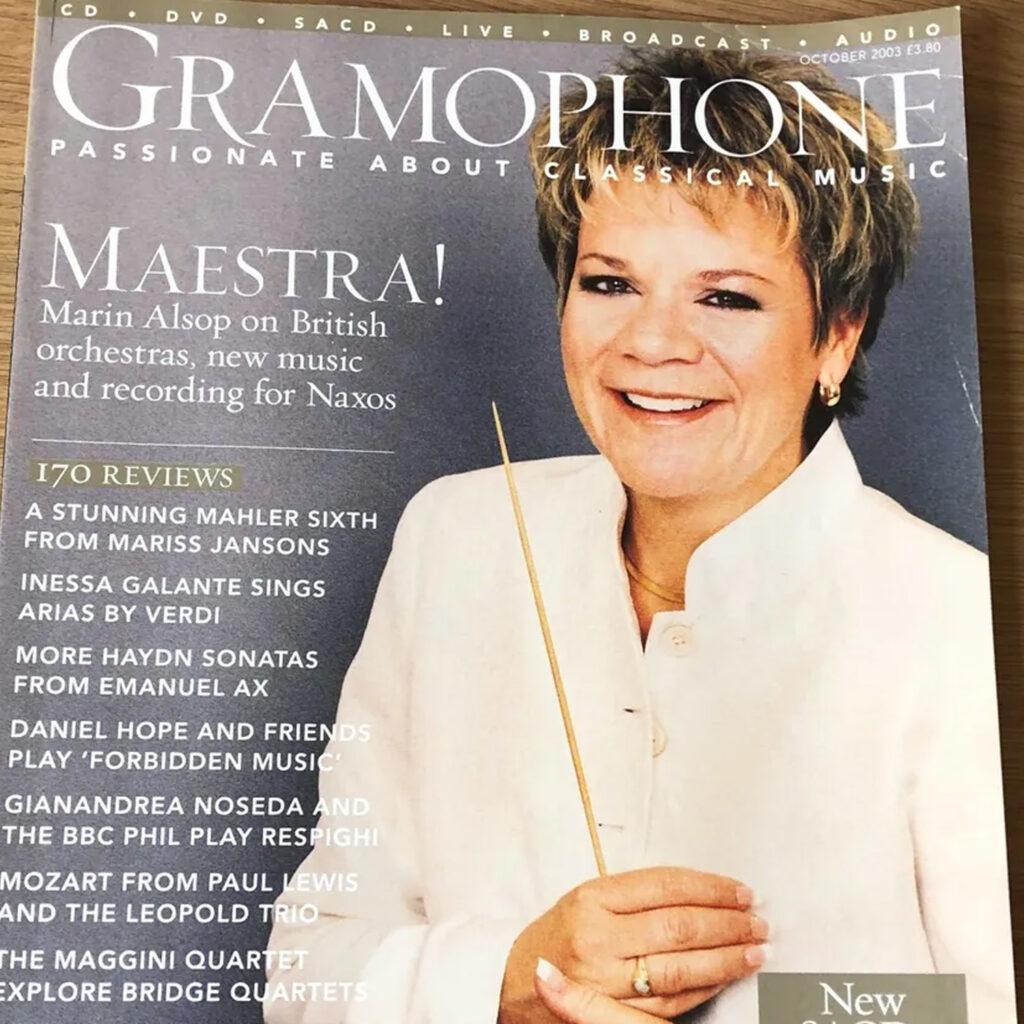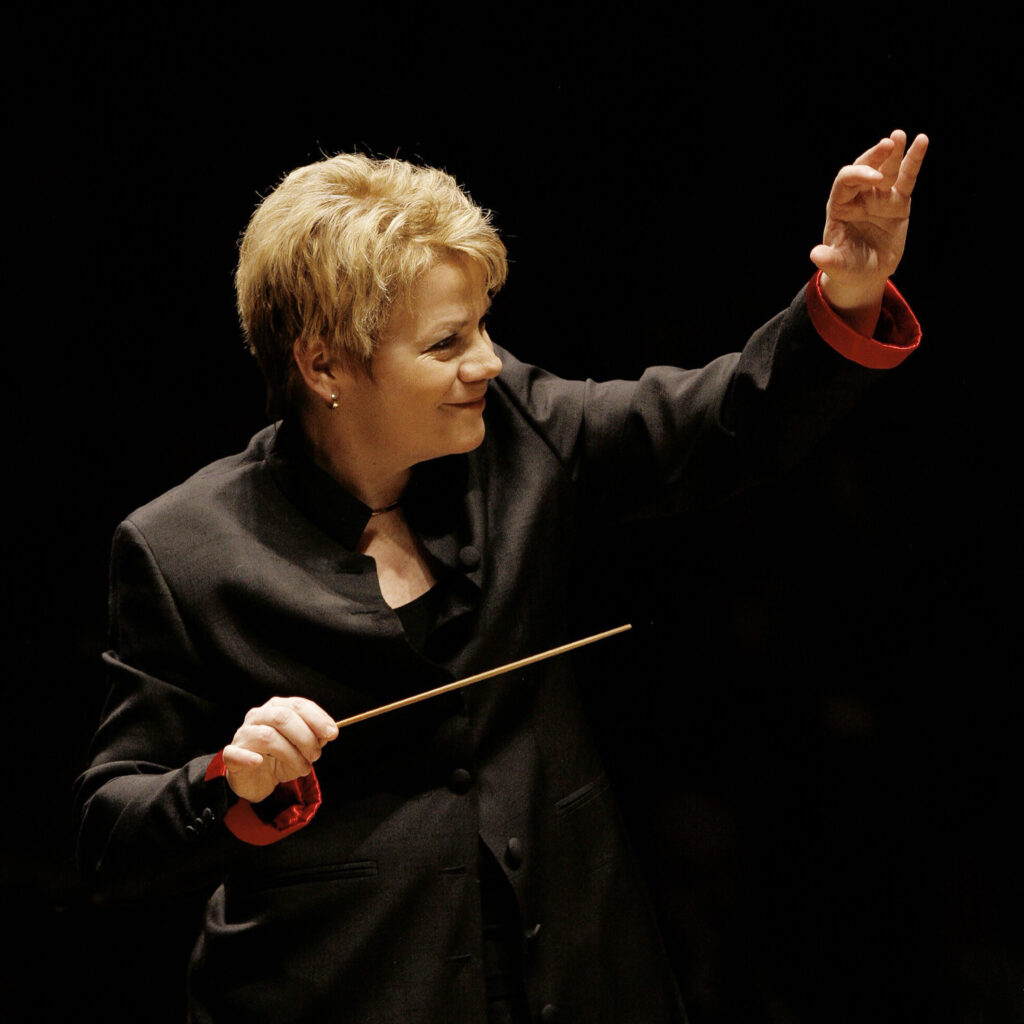 2001
Appointed Principal Conductor of the Bournemouth Symphony Orchestra

2000
Under Marin's programming, the Colorado Symphony wins 1st prize from ASCAP
1999
Appointed Principal Guest Conductor of the Royal Scottish National Orchestra (Glasgow) and began recording the complete works of Samuel Barber in a six-CD series for Naxos
1998
Received Governor's Award for Excellence in the Arts, State of Colorado
1997
Received distinguished Service Award from the University of Oregon

Under Marin's programming, the Colorado Symphony wins 1st prize from The American Society of Composers, Authors and Publishers (ASCAP)
1996
Accepted title of Conductor Laureate with the Eugene Symphony
1995
Awarded Honorary Doctorate of Letters degree by Gonzaga University, Spokane, WA
1994
Accepted position of Creative Conductor Chair with the St. Louis Symphony Orchestra
1993
Appointed Music Director of the Colorado Symphony (Denver)

Too Hot to Handel received its world premiere at the Lincoln Center with the Concordia Orchestra
1992
Appointed Music Director of the Cabrillo Festival of Contemporary Music

Cabrillo won the national ASCAP Award for Adventuresome Programming of Contemporary Music every year under Alsop's direction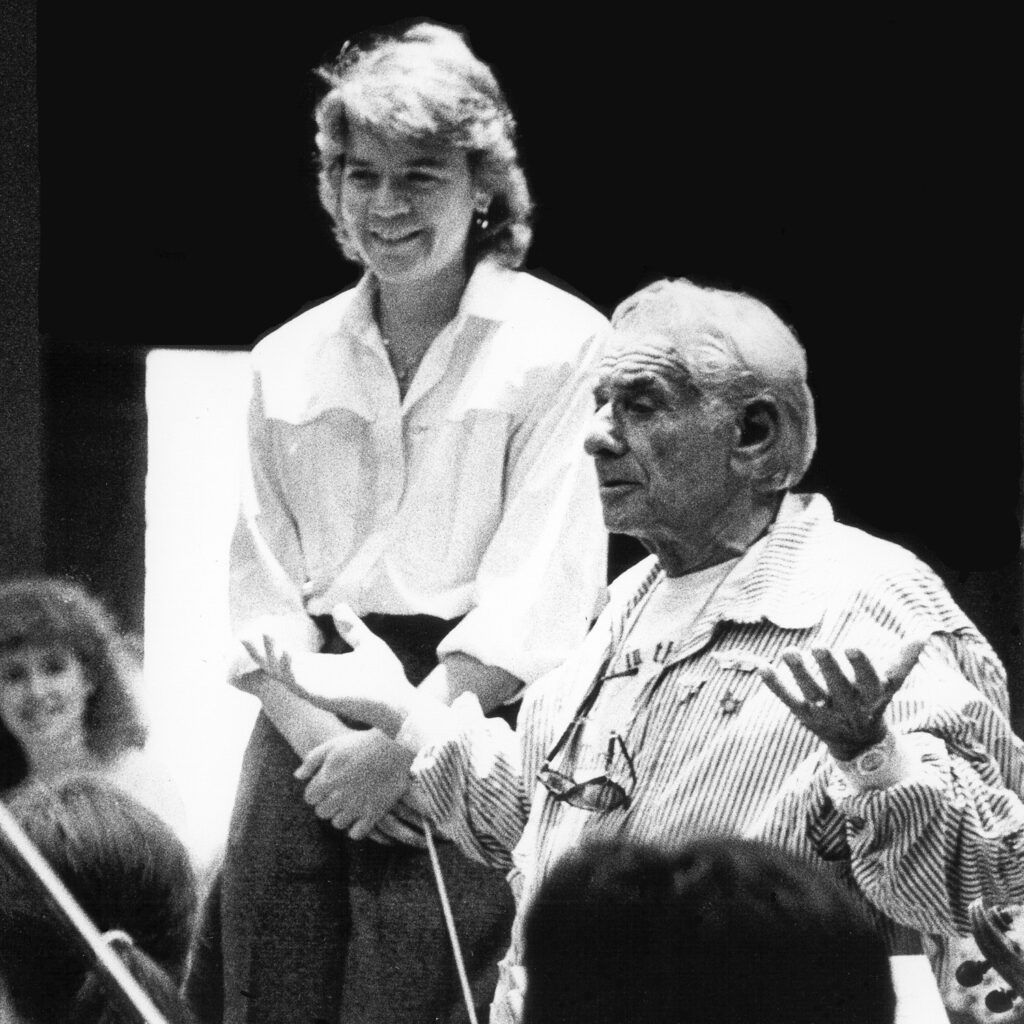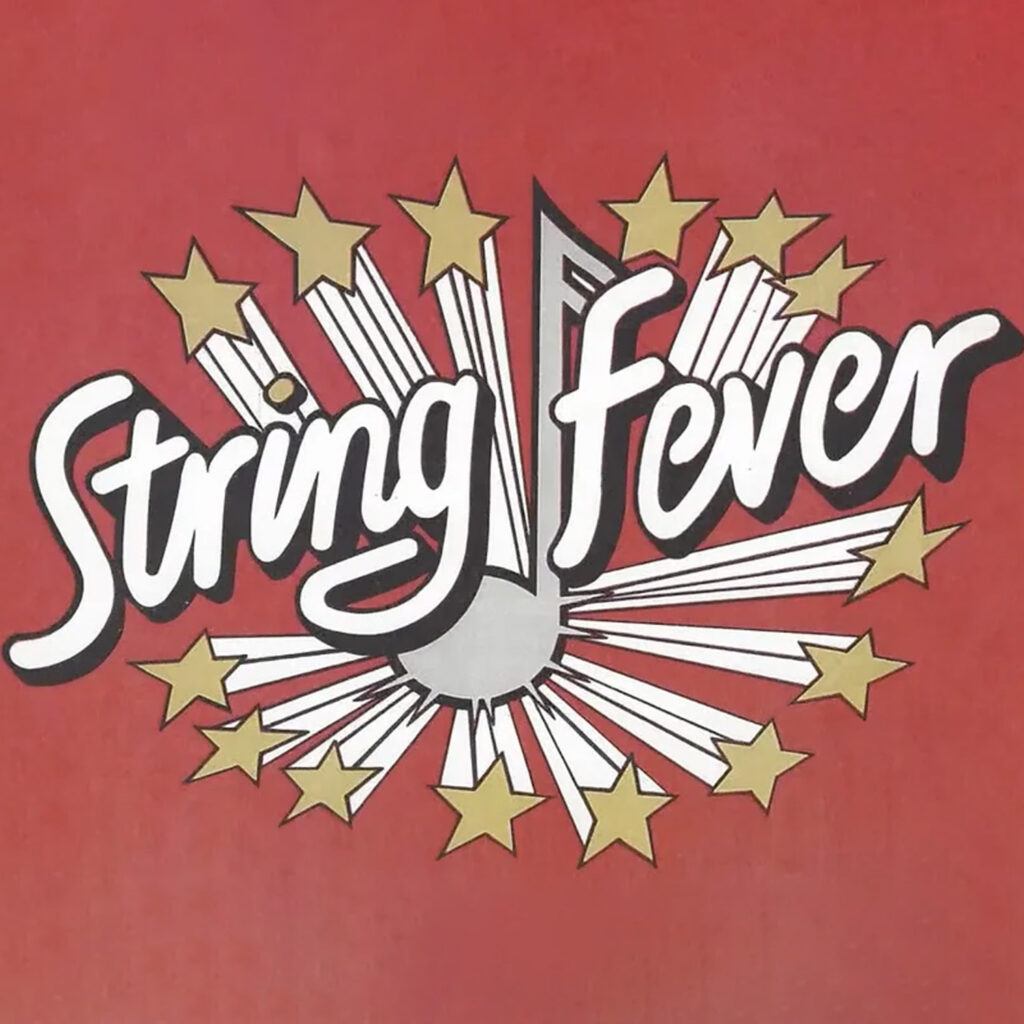 1990
Accompanied Leonard Bernstein to Japan as he establishes the Pacific Music Festival in Sapporo

Debuted with the Philadelphia Orchestra and the Los Angeles Philharmonic
1989
First and only woman awarded the Koussevitsky Conducting prize by the Tanglewood Music Center

Appointed Music Director of the Eugene Symphony Orchestra

Awarded the Leonard Bernstein Conducting Fellowship to the Tanglewood Music Center where she becomes a student of Leonard Bernstein, Gustav Meier and Seiji Ozawa

Appointed Associate Conductor of the Richmond Symphony (Richmond, Virginia)
1985
Began conducting studies with Harold Farberman
1984
Established and led as Music Director the Concordia Orchestra in New York City. Schedule included a three-concert series at the Pierpont Morgan Library and two concerts at Lincoln Center
1981
Established and led "String Fever," a 10-piece string swing band
1976
Began freelancing as a violinist in New York City, performing with the New York Philharmonic, the New York City Ballet, Mostly Mozart, the New York Chamber Symphony, the American Composers Orchestra, as well as Broadway shows including Sweeney Todd and Showboat. Also began studio work, playing on numerous film scores, popular albums, and television commercials
1975
Transferred to the Juilliard School and completed a Bachelor of Music in 1977 and Master's Degree in 1978, both in violin performance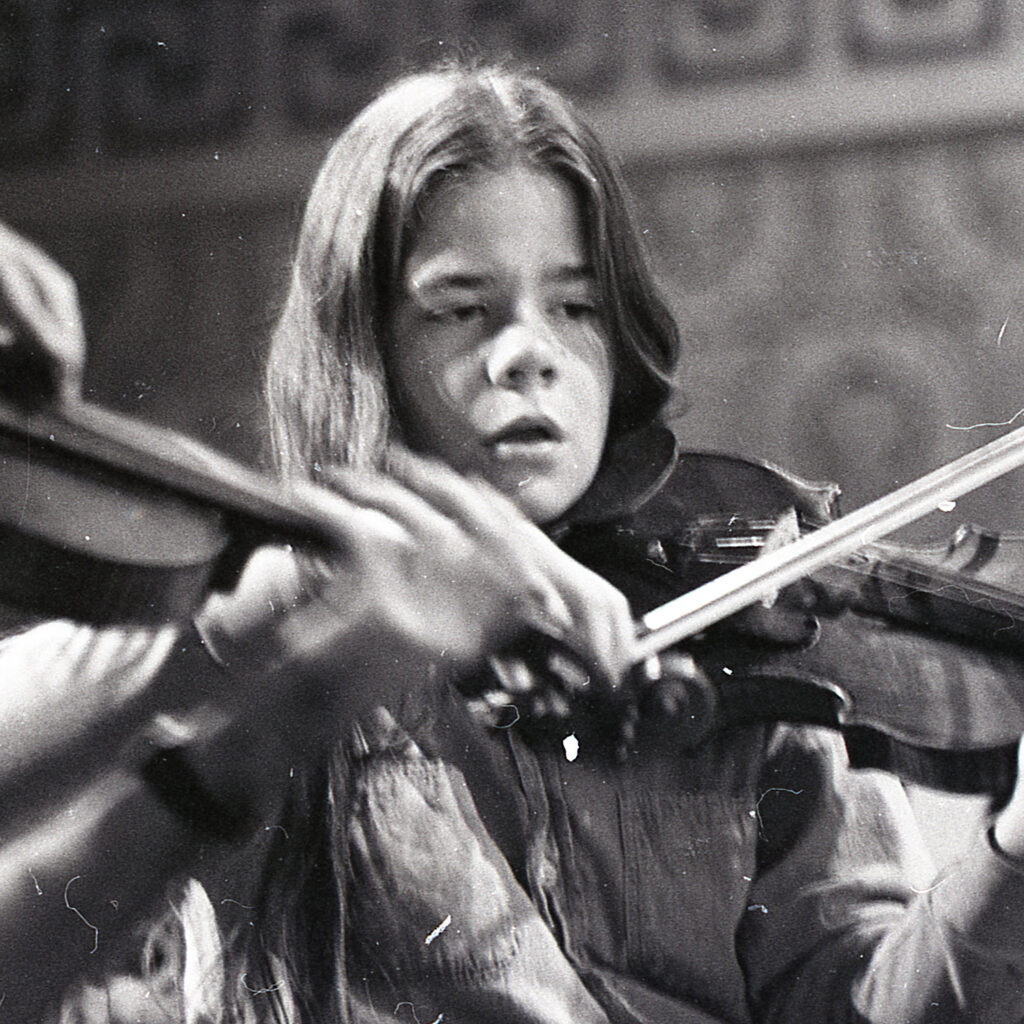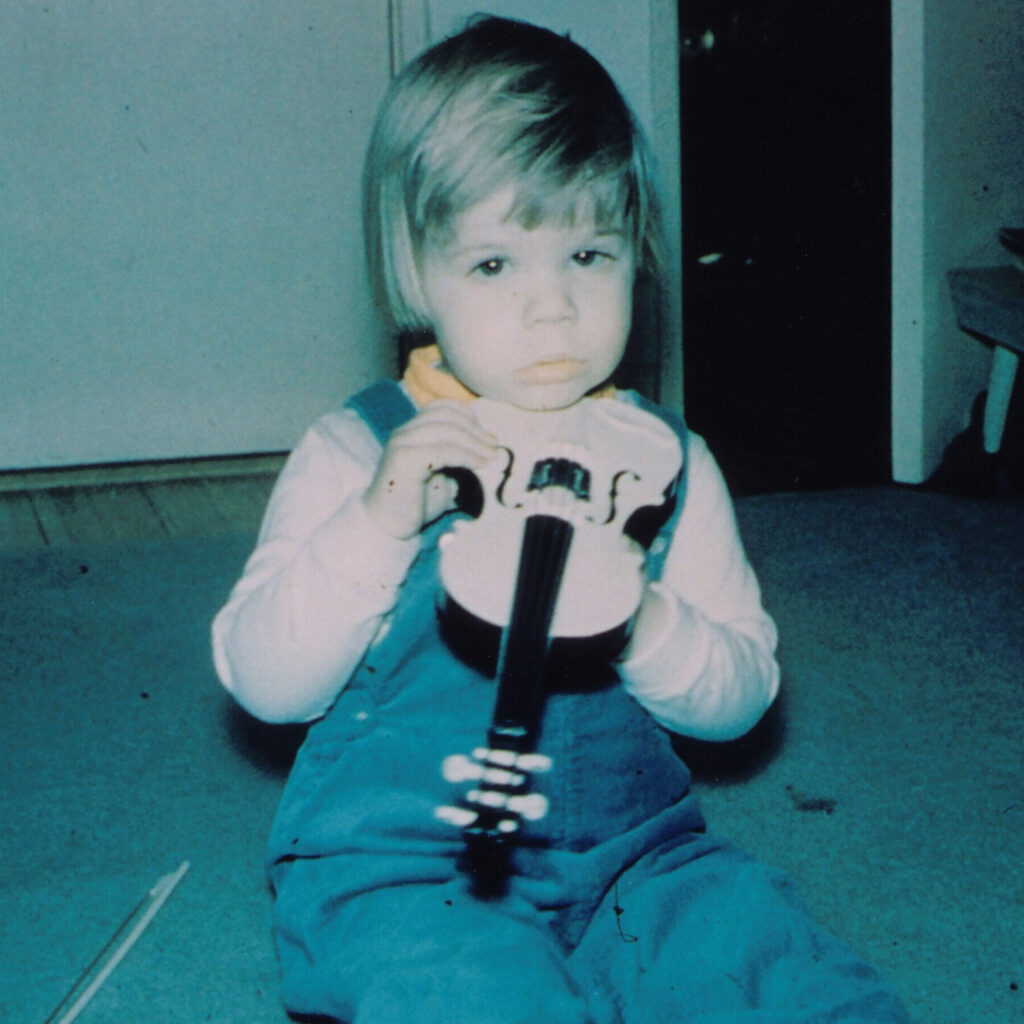 1968
Entered the Masters School (age 12)
1965
Watched Leonard Bernstein conduct the New York Philharmonic and decided she wanted to become a conductor (age 9)
1963
Entered Juilliard Pre-College (age 7)
1961
Began violin studies (age 5)
1958
Began piano studies (age 2)
1956
Born in NYC on October 16 to professional musicians Ruth and LaMar Alsop. LaMar was concertmaster of the New York City Ballet Orchestra and Ruth was a cellist in that same orchestra