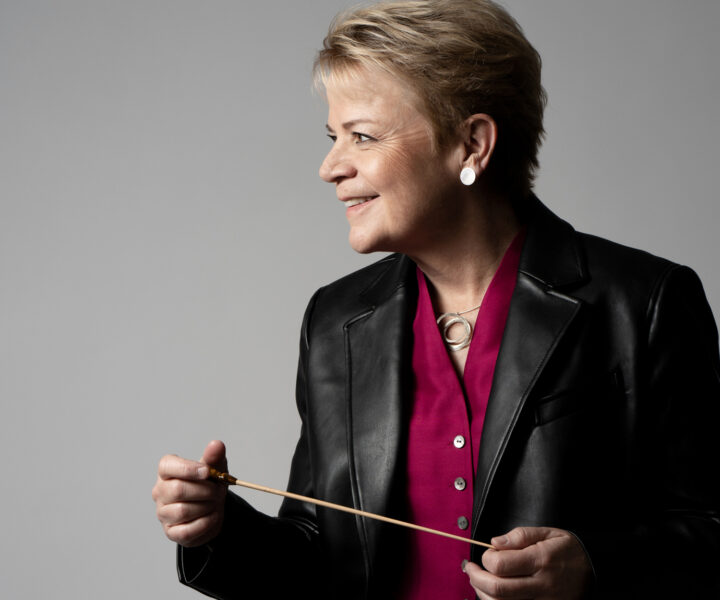 Marin Alsop has been named 2021 Classical Woman of the Year by American Public Media's Performance Today. The first woman to serve as the head of a major orchestra in the United States, South America, Austria and Britain, Alsop receives the annual award in recognition of her significant contributions to the art form. She will be honored on the April 2 episode of the radio show, when host Fred Child will interview her about her extensive career and accomplishments. Learn more about Alsop and the award here.
On learning of the award, Alsop said: "I am deeply honored by this recognition. My relationship with Performance Today goes back to the very start of my career and being nominated by today's Performance Today listeners brings things full circle and makes this a truly special occasion."
One of the foremost conductors of our time, Alsop represents a powerful and inspiring voice in the cultural world. Now serving as Chief Conductor of the ORF Vienna Radio Symphony Orchestra and Chief Conductor and Curator of Chicago's Ravinia Festival, she recently completed a 14-year tenure as Music Director of the Baltimore Symphony, where she founded OrchKids, a groundbreaking program fostering social change through music education, which has reached more than 2,000 students in underserved Baltimore neighborhoods. In 2002, she founded the Taki Alsop Conducting Fellowship, providing intensive coaching, mentorship and financial support to aspiring female conductors. The first and only conductor to receive a MacArthur Fellowship, Alsop is, as the New York Times put it, not only "a formidable musician and a powerful communicator" but also "a conductor with a vision."
The staff of Performance Today selected Alsop as Classical Woman of the Year on the basis of listener nominations. Submitted through the month of March, these nominations included glowing praise for the conductor, from which the following quotes are drawn:
"She has awakened in a worldwide community the quest to appreciate, understand and pursue what and how music enlightens and enriches our daily lives." – Douglas, Oregon

"She champions new artists and continues the fame of heroes such as Leonard Bernstein. She inspires women and everyone everywhere." – Ellen, Maryland

"Marin has energized the entire community with her outreach to the citizens of Baltimore city and beyond." – Robert, Maryland
Fred Child, host of Performance Today, commented: "I'm thrilled and honored that Marin Alsop is Performance Today's 2021 Classical Woman of the Year. She is an artist among conductors, combining inspiring artistic vision with charismatic presence, galvanizing orchestras and audiences alike. She is also among an elite group of conductors to have held major music directorships on three continents: in Baltimore, Sao Paolo, Vienna and the UK. Her devotion to education has been unwavering and continues as she is about to introduce a Conducting Academy to the annual National Orchestral Institute. It's with great pleasure that we recognize Marin with this well-deserved award."
About Performance Today
A winner of both Gabriel and Peabody awards, American Public Media's Performance Today is the U.S.A.'s most popular classical radio program. First airing in 1987 and hosted since 2000 by Fred Child, today it has 1.2 million listeners on 237 public radio stations across the country.
---