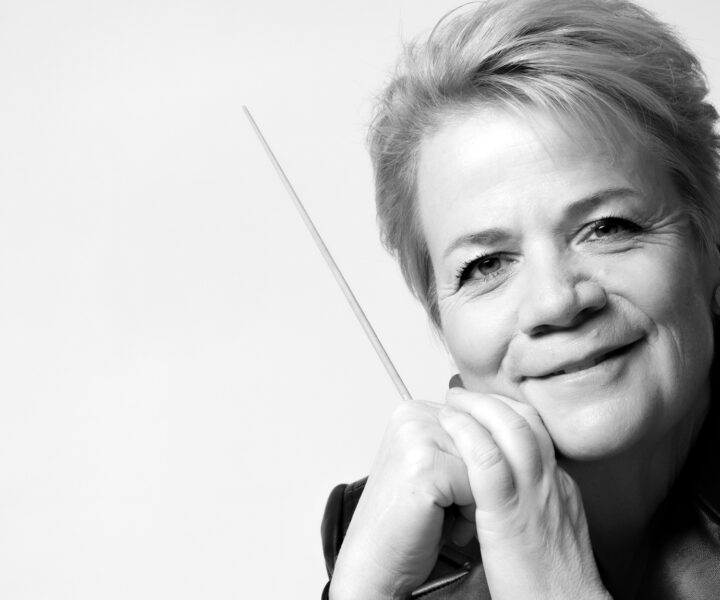 Marin Alsop begins 2022 with a variety of performances in Europe and the United States. Beginning on January 14, Marin leads the London Philharmonic Orchestra and cellist Kian Soltani for an evening of Barber, Shostakovich, and Brahms. She then travels to Paris for a performance with Soltani and the Radio France Philharmonic Orchestra on January 21.
Closing out the month, Marin returns to the podium with the Baltimore Symphony Orchestra for three world premiere performances by composer and sound artist Angélica Castelló (Jan 28, 29 & 30). The program also includes Wynton Marsalis's Violin Concerto and Saint-Saëns' "Organ" Symphony, featuring violinist Nicola Benedetti.
On February 3, Marin travels to Vienna to lead the ORF Vienna Radio Symphony Orchestra and cellist Alban Gerhadt featuring the music of Charlotte Bray, Brett Dean, Hindemith, and Bartok. After Vienna, Marin heads to Chicago Symphony Center on February 10, 11, & 12 performing Barber, Rachmaninov, and Elgar with pianist Lukáš Vondráček. Later in Hamburg, Marin conducts the NDR Elbphilharmonie Orchestra featuring pianist Jean-Yves Thibaudet and music by Barber, Adams, and Bernstein (Feb 18).
In Paris, Marin conducts three performances with the Orchestre de Paris on March 1, 2 & 3, each with guest conductors Rebecca Tong, Holly Hyun Choe, and Stephanie Childress respectively. On March 11, Marin returns to Vienna with the ORF Vienna Radio Symphony Orchestra and Violinist Ning Feng to perform Korngold, Dvořák, and a new work by Hannah Eisendle.
Marin then travels to Spain for a tour as chief conductor of the ORF Vienna Radio Symphony Orchestra with Kian Soltani in Madrid (Mar 16), Zaragoza (Mar 17), Barcelona (Mar 18), Alicante (Mar 19), and San Sebastian (Mar 20).
March ends with a performance at Carnegie Hall with the American Composers Orchestra (Mar 25). Marin conducts several premiere performances with violinist Jennifer Koh. Highlights include the NY premieres of Anna Clyne's Restless Oceans and Lisa Bielawa's Violin Concerto Sanctuary, the US premiere of Hannah Kendall's Tuxedo: Vasco 'de' Gama, and world premieres of new works by Dai Wie and Paula Marrhusen.
---